Add $1,000,000 to Your Company's Bottom Line with the Restoration AI Supplement Tool
It's known in the industry the average insurance scope of loss is written for 50% to 65% of what it should be. Said differently, there's a 35% to 50% opportunity for the Contractor to be paid what is rightfully owed. I added 25% to 30% to our jobs, year in, year out, using the Restoration AI Supplement Tool. I also decreased the prep time and Desk Adjuster discussions by over 50%.
The Restoration AI Supplement Tool Checks Off All The Boxes:
Hundreds of pre-written supplement templates for roofing and interior items.
Quickly find the correct template item with the keyword search tool.
Template items are professionally written with proper spelling and grammar.
Template items include the correct Xactimate™ codes.
Template items for common building code items include the IRC Code description.
Damage/Item photos can be embedded with the template item making it easy to understand.
Advanced email tool assists with properly submitting the supplement to the Carrier.
Prepare and Submit a Professional Looking Supplement in 15 Minutes!
A 5 to 10 item supplement can easily be prepared and submitted in less than 15 minutes. Type a keyword in the search box, select the appropriate pre-written supplement item, add photos. Rinse and repeat. How can it get any easier than point and click supplementing? Pre or Post Job, Overhead & Profit to Building Code items, the Restoration AI Supplement Tool has it covered. Existing items can be easily edited if desired and you can create your own library of custom supplement items.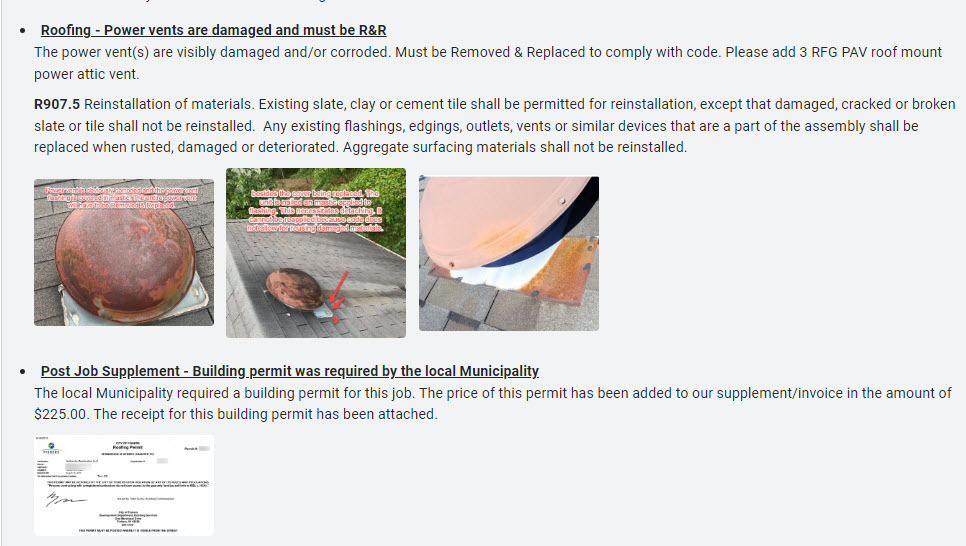 Xactimate™ Not Needed

Traditional supplementing practices would have the Contractor prepare an "Xactimate™" and submit it. Xactimate™ is expensive software and can be difficult to learn and use. Restoration AI Supplements do not require any knowledge or experience with Xactimate. Find your line item, select it and upload photos. The Xactimate codes are already inserted in the Restoration AI Supplement item.

Leave the spelling and grammar to Restoration AI

Establishing credibility with a professionally written Supplement is essential for success. Many Desk Adjusters are White Collar with minimal or no trade knowledge or experience. They may make decisions based more upon appearance than content. Let the college graduate level Restoration AI pre-written supplement items represent you. Search, point and click with confidence.

Submit Your Supplement with the Restoration AI Email Tool

The Restoration AI email tool has the claim's department email addresses for over 100 Insurance Companies. There are multiple pre-written headers and signatures for the User to choose from, point and click. File compressed photo attachments keep the overall file size down avoiding problems with company servers. Attach supporting documents quickly and easily. Use the free trial to submit your first Restoration AI Supplement and start increasing your profits by 30% today.
"All I can say is thank you! The original estimate on my first supplement, started as $16,088.20 Total RCV. Mainly roof and some light interior work. I used the Restorationai software to write out all my explanations on the supplement and saw that clearly instructs the adjuster on what Xactimate Codes to use to write the supplement properly. 3 days later the adjuster called the homeowner directly to let them know they were issuing full payment of $9,828.72 of which $6,511.57 was all supplement! The adjuster called me the next day to let me know he had everything he needed to approve the full supplement request and even commented at the fact it was extremely well laid out and extremely easy to justify my additional charges.This is a game changer for me and my company, and has streamlined our supplementing process to nearly half the time we spent before with double, if not triple the approval results."
Quit Leaving 20%-50% Of Your Profits On The Table!
Be paid what you're owed without having to invest tremendous time creating long, complex supplements.
Sign up now for your no obligation FREE Trial. No tricks, no gimmicks, no credit card required. 100% fully functional report provided with no strings attached. You can increase your profits with this free report without spending a penny!