Increase the Profit $$$$ on Your Insurance Jobs with the Restoration AI Supplement Tool
Bridges the gap between the White Collar Insurance Companies and Blue Collar Contractors.
Do any of the following statements describe you?
I realize we're getting underpaid for Insurance work but I'm not sure what to do about it.
I hate typing, documentation and details.
I don't have the time to write out long supplements.
I often feel at a disadvantage when discussing supplements with an Adjuster.
I don't have Xactimate or I'm not skilled writing Xactimate estimates and supplements.
If one or more of these statements fit, you're the perfect candidate for the Restoration AI Supplement Tool.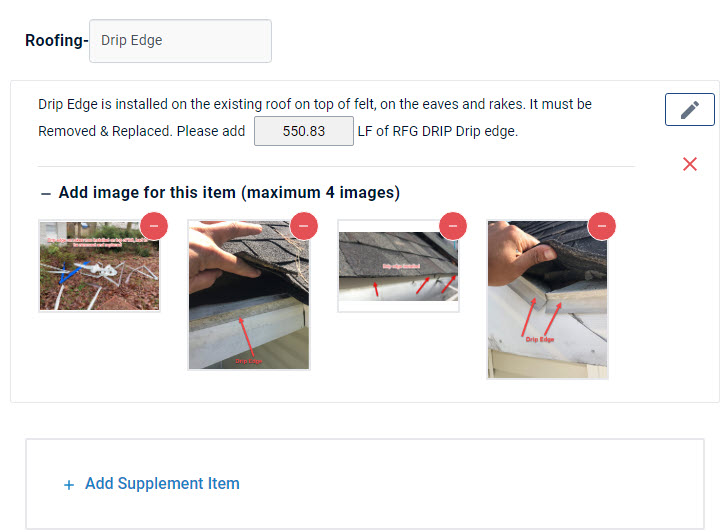 Sign up now for your FREE TRIAL – create and submit your first supplement for FREE! No credit card needed, no obligation, no strings attached.
Hundreds of the most common supplement paragraphs have been pre written by top Industry Experts and have been successfully used for years to successfully supplement thousands of claims. They are now available for Contractors to create full supplements using "point & click."

"All I can say is thank you! The original estimate on my first supplement, started as $16,088.20 Total RCV. Mainly roof and some light interior work. I used the Restorationai software to write out all my explanations on the supplement and saw that clearly instructs the adjuster on what Xactimate Codes to use to write the supplement properly. 3 days later the adjuster called the homeowner directly to let them know they were issuing full payment of $9,828.72 of which $6,511.57 was all supplement! The adjuster called me the next day to let me know he had everything he needed to approve the full supplement request and even commented at the fact it was extremely well laid out and extremely easy to justify my additional charges.This is a game changer for me and my company, and has streamlined our supplementing process to nearly half the time we spent before with double, if not triple the approval results."
Brandon Holder – Weathertek Construction
Quit leaving 20 to 50% of your profits on the table!
Be paid what you're owed without having to invest tremendous time creating long, complex supplements.
Sign up now for your no obligation FREE Trial. No tricks, no gimmicks, no credit card required. 100% fully functional report provided with no strings attached. You can increase your profits with this free report without spending a penny!